Richard Daniels, Jr.
BROKER, GRI
Phone: 910-486-8810
FAYETTEVILLE-FORT BRAGG-POPE ARMY AIRFIELD
Call Today...We Can Handle It.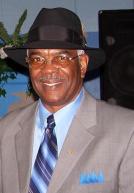 Welcome...
Welcome to Richard Daniels Real Estate, Inc. Our goal is to provide the best possible Real Estate experience. Whether you are buying, selling, or renting, let us help you with your Real Estate needs. You can depend on the quality service that our company provides. If you are looking for relocation assistance, we will help you with the information you need. Call us today. We Can Handle it!
Have you ever told an agent, exactly what you wanted, including price range and he showed you everything, except what you asked? Relax, and allow us to help you find that starter or dream home. There are numerous agents out there just waiting to help you. However, there's only one agent/Company that will ensure that you get what you really want. Give us a call!
Call Me For All Your Real Estate Needs.
"It is illegal to discriminate against any person because of race, color, religion, sex, handicap, familial status, or national origin"